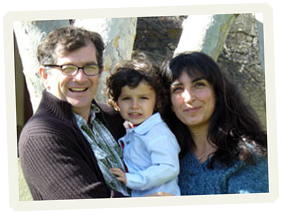 I currently live in Los Angeles with my wife, Janet Hayatshahi -- who has an MFA in Dance Theatre from UCSD -- and our son, Roan.
I am a JD candidate at the UCLA School of Law . While studying for an M.A. in Political Science, my research interests were in theories of nationalism, especially comtemporary work regarding states' relationships with their diasporas. I am also interested in the the effect of social networking sites on political movements (yes, me too). I served as the president of the graduate student association in political science and am a member of the political science honors society Pi Sigma Alpha and the non-traditional student honors society, Pinnacle. I also earned a B.A. (summa cum laude) in Multimedia, and have done some web design, graphic design, and photography.
The bulk of my professsional career (since 1992), however, has been as an actor (and sometimes director). I have performed with La Jolla Playhouse/Theatre de la Jeune Lune, the currently hibernating Sledgehammer Theatre, and Comedysportz (starting in Chicago ), among others. I have specialized in short-form comedy improvisation and ensemble-created experimental works (using mostly Anne Bogart's Viewpoints and Tadashi Suzuki's method). I'm a fan of performing Shakespeare.
I write, and earned an honorable mention in the 55 Fiction contest (not much of an award, but an award nonetheless, I suppose). I was a musician and played saxophone, trumpet, sousaphone, and accordian (but, that was a very long time ago).
In 1986, within weeks of graduating from High School I stepped onto the yellow footprints at Marine Corps Recruit Depot, San Diego, and began three months of some of the toughest military training the world has to offer, followed by five years of highly influential experiences. The Marine Corps taught me structured programming (COBOL), the value of endurance, and many things besides. I was a Corporal when I left the Marine Corps after serving in the Persian Gulf War.